La Sagrada Familia. The Sacred Family.
And sacred is truly all that can describe this place. Whether you're a religious person or not, there's a reason this place is so famous. I have rarely ever seen something that was literally breathtaking, the Piccolomini Library in Siena Cathedral perhaps, but nothing quite like walking inside La Sagrada Familia.
Early on in planning our trip to Barcelona I happened upon a blog post on the 'must sees' of visiting the Gaudí construction site. While I've lost the link, I have to tell you the best piece of advice from the post — to visit La Sagrada Familia at sunset. Now, when you have to purchase timed entry tickets well in advance it becomes incredibly difficult to plan what time you should purchase the tickets for — thus ensued a research project into when the sun sets in November. But it was extremely worth it.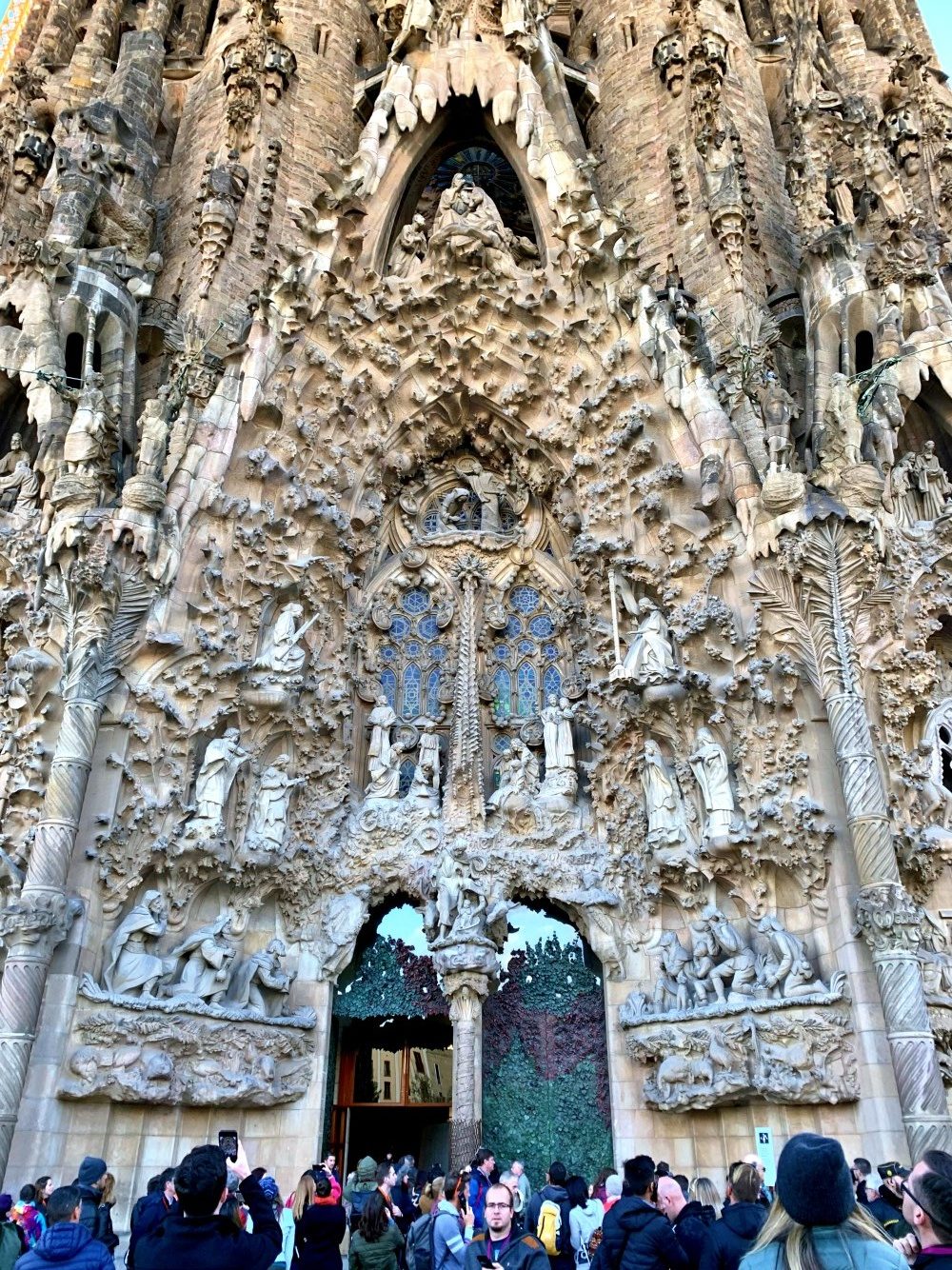 The Nativity Façade
The Nativity scene sits over the Eastern Entryway
Every inch of this façade is covered in texture with either animals, plants, or people
The whole orchestration of crowds into the site is actually not bad, you queue up, go through security, and follow the signs for your audio guide. The guide walks you through the whole Nativity facade, pointing out certain areas to offer more historical understanding of the project and the symbology of the whole place. You're teased by a quick look into the Rose Chapel, and then you're brought into the crossing of the cathedral.
But nothing could prepare you for this...
Looking across the transept to the Western Entry
The altar
Unfortunately, we couldn't climb the Nativity Tower due to construction, which is a common trend given that it is a working construction project. Construction has been ongoing for over a century, since 1882. If you haven't visited, you'll wonder why anyone would bother to continue and how they even could when Gaudí has been dead for most of its construction, but if you've seen it in person you'll know why this impressive building has continued to rise.
Entry to the Nativity Façade Towers
Colored windows of a side chapel
Western windows
Unlike most cathedrals with detailed biblical scenes, the windows here are purely abstract stained glass creations. Which creates beautiful refractions throughout the interior.
While the western-facing windows are like liquid fire pouring into the space, the eastern windows reflect a sunrise over the ocean — cool and serene.
Eastern Windows
Rose Window
Passion Façade Towers
Gaudí envisioned the ceiling as a forest and the stalks of columns throughout the basilica do make you feel like you're walking among the trees
The Passion Façade is bare in comparison to the lively Nativity side
The columns here resemble bones rather than strong supports 
I cannot recommend a visit to La Sagrada Familia more. And if you can manage it in the hour around sunset, it will be magnificent.