As it's my birthday week, it seems only fitting that I write about a recent exhibition that depicted enchanted worlds and fairytale imaginations brought to life.
Illustration from the The Twelve Dancing Princesses, 1912. '"Don't drink! cried out the Little Princess"'
Danish artist Kay Nielsen (1886-1957) is perhaps not well-known by name, but his illustrations are so vivid in detail and possibility they are instantly familiar.  The MFA Boston recently exhibited Nielsen's works — showcasing illustrations he created for five books he did the artwork for, items that his illustrations have inspired, and preparatory sketches for other commissions.
Illustration from The Two Brothers, 1925 '"Then the dragon made a dart at the hunter, but he swung his sword round and cut off three of the beast's heads."'
Illustration from The Juniper Tree, 1925. '"...and in the middle was a burning fire, and out of the fire came a pretty bird."'
While I found all of the illustrations used to market the exhibit extremely familiar, it wasn't until I saw this sketch that I realized a reason why his work seemed so recognizable.
Concept drawing for Fantasia featuring Chernabog, 1940.
As I made my way through each of the sketches (I actually went through the whole exhibit twice since it was s quiet Monday morning and his works deserve it), I thought back to my favorite editions of fairytale compilations growing up. My family had several storybooks filled with the common and lesser-known fairytales, all of which included beautiful illustrations. While we may or may not have one of the books Nielsen drew for, those who came after him certainly took on his style for how well they matched the images conjured in my own head when I think of these stories.
Tales from a Garden, He and She and That, 1913
Evening dress designed by Karl Lagerfeld, 2016
Kay Nielsen not only depicts worlds we couldn't possibly think up on our own, but does so down to the most minute detail.
Illustration for Hansel & Gretel, 1924. "'They saw that the cottage was made of bread and cakes."'
Illustration to Minon Minette, 1912. '"Prince Souci and Princess Minon Minette flying on the fan."'
Illustrations from East of the Sun and West of the Moon, 1913-1914.
Illustration to The Three Princesses of Whiteland, 1914. '"So the man gave him a pair of snowshoes."'
Illustration to Pot of Pinks and John and the Ghosts. "The good Fairy paced her own baby in a cradle of roses and gave command to the zephyrs to carry him.." "Your soul — my soul they kept saying...according as they won or lost."'
Illustrations from In Powder and Crinoline, published as The Twelve Dancing Princess in the United States.
Illustration to The Nightingale, 1923. '"And when I get back and am tired...then I hear the Nightingale sing."'
Everything is multilayered and dazzles you. It almost makes it more real for me as I expect a make believe world to be ostentatious and so filled with multidimensional beauty and elegance I don't know where to look. And the longer you linger in front of an illustration the more you drink in of these details and how they create a whole scene. In some ways its a lovely metaphor for fairytales — you have to be willing to look with careful attention, otherwise you might miss the possibility of the magic.
Illustration to The Blue Belt, 1914. "'The Lad in the Bear's skin, and the King of Arabia's daughter."'
Illustration to The Giant Who Had No Heart in his Body, 1914. "'On that island stands a church..."'
Illustrations for Hans Christiann Andersen's fairytales
Illustration for The Shepherdess and the Chimney Sweep, 1917. '"We'll mount so high that they can't catch us..."'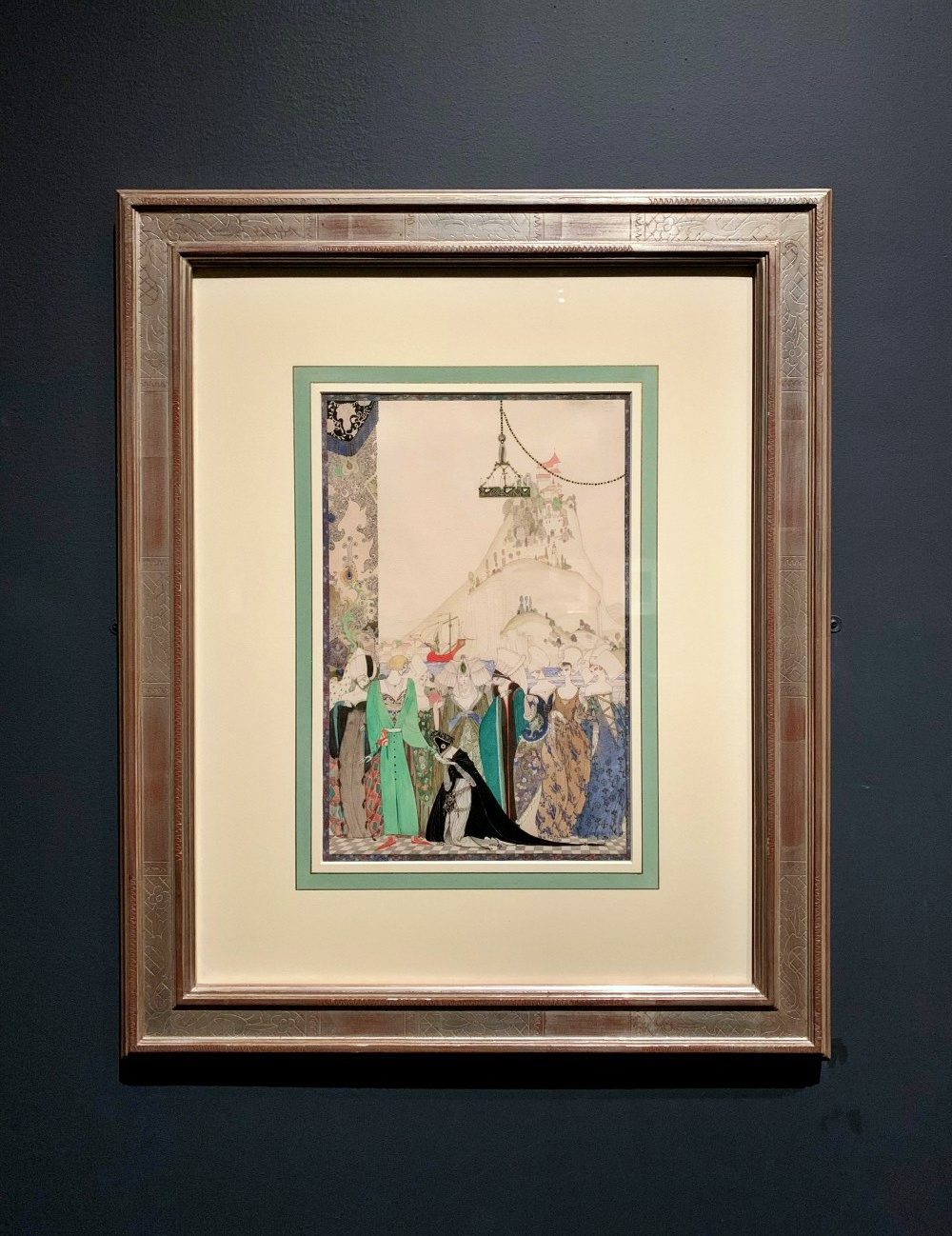 Illustration to Joan of Arc, 1914. 
While the exhibition has now closed, if you happen to chance upon a Nielsen exhibit you'll be transported to your childhood.