All a good story requires are friendly and relatable characters, illustrations that allow for further imagination, and some truth.
This particular story started out with a boy and his bear.
When I was little, I had dozens of stuffed animal friends, all of whom came very much alive in my mind.
So for me, a story about a boy and his friends — who very much seemed to be stuffed animals in reality — was extremely familiar to me.
And I bet this little, hunny-loving bear was a favorite of yours too, the friendly, courageous, and generous Winnie the Pooh!
AA Milne and EH Shepard's classic story has been reimagined countless times since its first publication in 1926.
To make things even more special, these delightful stories about friendship and working together were based on the lives of the author's and illustrator's sons and their own stuffed bears.
Milne's son, Christopher Robin, had a beloved bear named Winnie after the famous military bear in the Kensington Zoo.
And Daphne Milne helped to first fuel the idea, creating wonderful tales for her son about his adventures with the bear.
With this foundation, Shepard instantly loved the idea as his own son had a favorite teddy, Growler — which you can imagine helped further animate some of our Pooh's tummy-rumblings and constant hunt for more hunny.
The MFA has really done a lovely job setting the scene for the exhibit — weaving facts and photos of our young Christopher Robin with interactive exhibits, reading nooks, questions to encourage conversation, and illustrations blown up to wall-size and 3D displays.
And lucky for me, I got to see the exhibit through the eyes and exclamations of a few children who were in the gallery with their parents, and who were just as delighted with their 100 Acre Wood friends as I imagine my sister and I once were.
(When in doubt, visit a museum with children and they'll bring things to life you didn't even know were possible).
Figurines from the story book. 
Winnie-the-Pooh Board Game
Humorous fan art. 
Eeyore's house.
After weaving your way through the various displays and tidbits of further explanation on character development, you arrive at a lovely corner of the gallery space that walks you through the ingredients in a story: Characters, Text, Animation, Technique, alongside a display of the genius collaboration of Milne's writing and Shepard's images.
And in case you are in the need for another smackerel — before you exit the exhibit you can peruse the first editions, the print process, and the concept boards of the world of Pooh and his friends.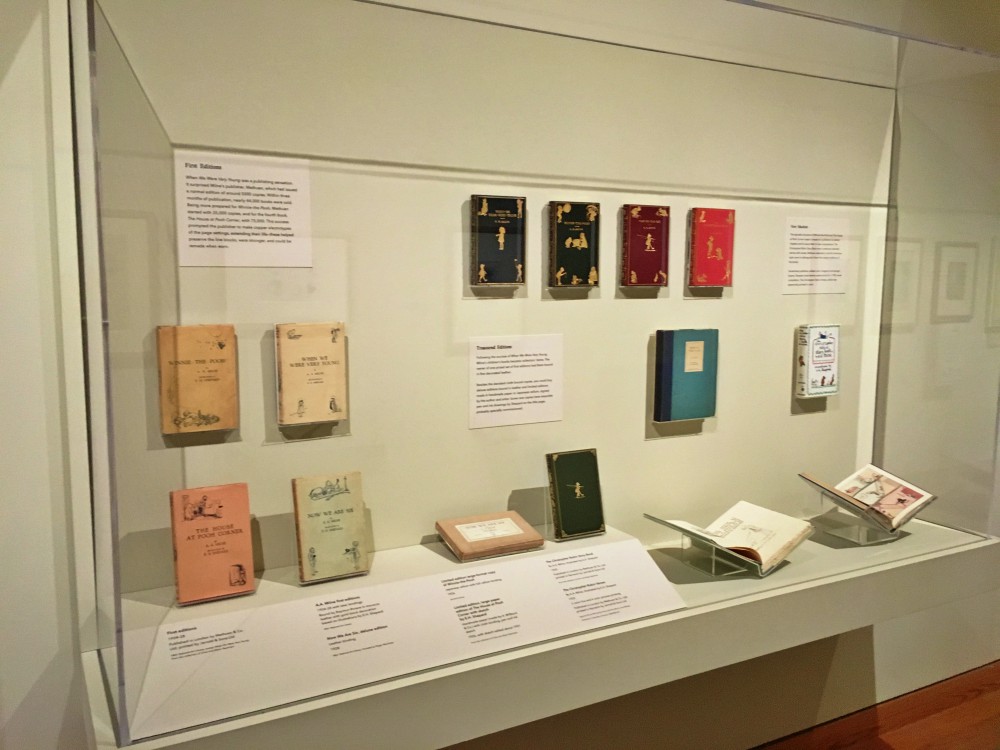 First editions of the different story installments. 
Process of adding color to the original drawings.
I wholeheartedly urge you to see this exhibit (on through New Years) to reminisce the wonderful world of Pooh! Tickets for timed entries are required, but I purchased mine just a few hours before heading over to the museum.